Diagnostic
NovaTraffic
Traffic and behavior diagnosis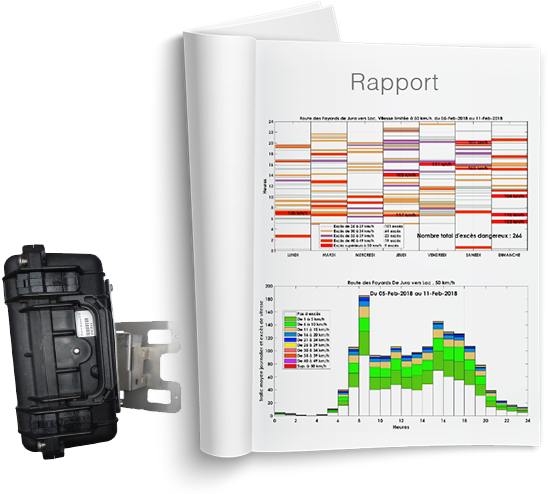 With the NovaTraffic diagnostic solution, you can obtain a detailed view of the traffic on a road section while offering a structured analysis of user behavior. Based on the temporary deployment of non-invasive counting radars, it is an essential tool for those who want to understand the traffic in their city, anticipate the dangers and take ad hoc measures in terms of traffic moderation.
The analysis aligns with the legislation (LCR 741.031 and 741.01 for Switzerland).
In short

Vehicle counting

Speed measurement

Multi-lane in opposite directions

Classification
Fonctionnement
Flows and speeds
The diagnostic report details the hourly density of traffic on two lanes in both directions of traffic. The data thus processed are reported in the number of vehicles per hour, day, and week. The report also includes an analysis of the measured speeds in both directions of traffic. It is thus possible to see how many vehicles are passing at the right speed or too quickly. The indicators V50 and V85 are also calculated.
Analysis of the number of vehicles per day and per week
Speed analysis with V50 and V85 indicators
Speeding
The report details precisely the behavior of drivers on the section in both directions of traffic. This analysis makes it possible to classify excess speeds according to the legislation in force and count dangerous behaviors subject to fines, tort, or criminal. It is possible to shed light on recurring deviant behavior to implement repressive measures.
Classification of excess speed according to the legislation
Detection of recurring deviant behavior
Radar
NovaTraffic diagnostics are established from data collected on non-invasive Doppler type radars (245 x 270 x 230 mm). These are installed for the analysis period and have a battery life of up to 3 weeks. With an accuracy of +/- 3%, they allow vehicle counting and speed measurement on one or two lanes in opposite directions.
Non-invasive Doppler radar
Measurements on one or two tracks in opposite directions
IP67 reinforced and locked PVC enclosure
Operating mode
Preparation
Concerted location of the areas to be studied and the collection period (1 to 3 weeks)
  Installation
By Novaccess or one of its partners
Preferably installed on public lighting poles
  Collection
Autonomous collection of traffic data by speed cameras
  Disassembly
By Novaccess or one of its partners
  Analysis
Data extraction and processing
Results analysis
  Delivery
Paper / electronic report
Presentation of the results
Are you interested in this service?
Contact us for any detailed presentation or product demonstration request
Traffic and behavior diagnosis
NovaTraffic diagnostics give a detailed view of the traffic and the behavior of motorists on a road section. The data is collected through the deployment of small Doppler radars and then processed by the Novaccess team. The analyses are in line with local legislation (LCR 741.031 and 741.01 for Switzerland) and give an overview of drivers' different types of offenses.