Warning speed sign
NovaTraffic
The intelligent warning speed sign for accident prevention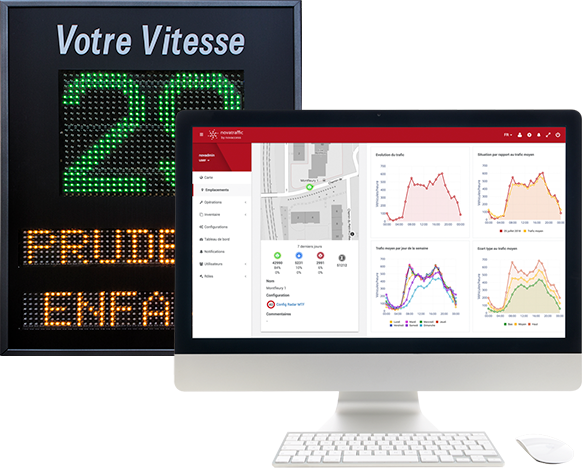 The second part of the NovaTraffic solution offers a fleet of connected warning speed signs that allow real-time monitoring of traffic and user speed while providing a means of moderating their speed in a non-coercive manner. The effectiveness of this method is also measured in real-time via indicators that continuously express the respect and support of users.
The solution also enhances the operational efficiency of police forces by remotely reconfiguring signs and a battery recharging system on public lighting poles.
Features
Display
Three-color graphic display area for displaying speed and icons in red, green or yellow
Two lines of text of 8 characters each, reading possible at 30m, possibility of configuring alternating texts
Possibility of remote display reconfiguration
Equipment
AGD330 radar with detection at 150m from a speed of 15km/h
Customizable front face (for example with the logo of the municipality)
Front panel in anti-UV, anti-reflective polycarbonate
Dimensions of 700 x 900 x 122 mm
Thermostatic ventilation, lightning protection
Connectivity
Live connection to online software
Power supply
Charging system on public lighting poles
Are you interested in this equipment?
Contact us for any detailed presentation or product demonstration request
Connected warning speed sign
Novaccess connects warning speed signs in real-time. In addition to their primary function of making motorists aware of their speed, they thus automatically retrieve traffic and speed statistics directly in online software. An analysis of the educational impact of radars is also available. The latter is based on an approach speed, measured before the message appears on the radar, and a passing speed. It is thus possible to detect whether the drivers are slowing down or not thanks to the warning speed signs. The radar screen displays speed, a smiley face, and two lines of text. You can reprogram the configuration of these elements at any time from the online software.